CoreSolutions Software announce the release of their new, highly anticipated meeting/polling web application, CoreUM. CoreUM is an easy to use app for polling staff and booking meetings at any organization – available for free download, in premium VIP individual format or as part of the CoreUM ultimate corporate package.
A Web App with Premium Upgrades Designed to Keep All Staff in the Information Loop & Make Meeting Booking a Breeze
London, ON – June 13, 2017 – CoreSolutions Software Inc., an industry leader in custom software solutions, along with web and mobile application development, announce the release of CoreUM – an unlimited meeting and web polling application developed to take the hassle out of coordinating multiple schedules to book corporate meetings. This application offers users the ability to propose a meeting time to any number of respondents and receive instant notification when all responses are received – making coordinating meetings a cinch! Users can test out the meeting and polling features in the free version of the app, with the option of upgrading to a premium package.
CoreUM organizes and manages the booking of organizational meetings in a simple to use, user-friendly web application that can be accessed on any device – be it mobile, desktop or tablet! Staff are automatically emailed proposed meeting date and time information that they can either approve or decline. Once all respondent information is received, the meeting organizer is instantly informed via email and notified that they can go ahead and secure the meeting time. This means no more back and forth communications! CoreUM makes it easy arrange staff meetings for teams of any size!
"CoreUM is a huge time-saver," says Barney Lawn, CEO of CoreSolutions Software:
"This web app makes coordinating multiple schedules for staff meetings as simple as a few-clicks! I've already started to use the app for both my internal and external company meetings and it's quickly become a staple in my business arsenal!"
The CoreUM web application aims to streamline processes and save staff time by offering organizations a simple, user-friendly tool with a sleek interface to manage the coordination and booking of staff meetings of any size.
CoreUM is your ultimate meeting application. Sign up for CoreUM today!
See CoreUM in Action
CoreUM Screenshots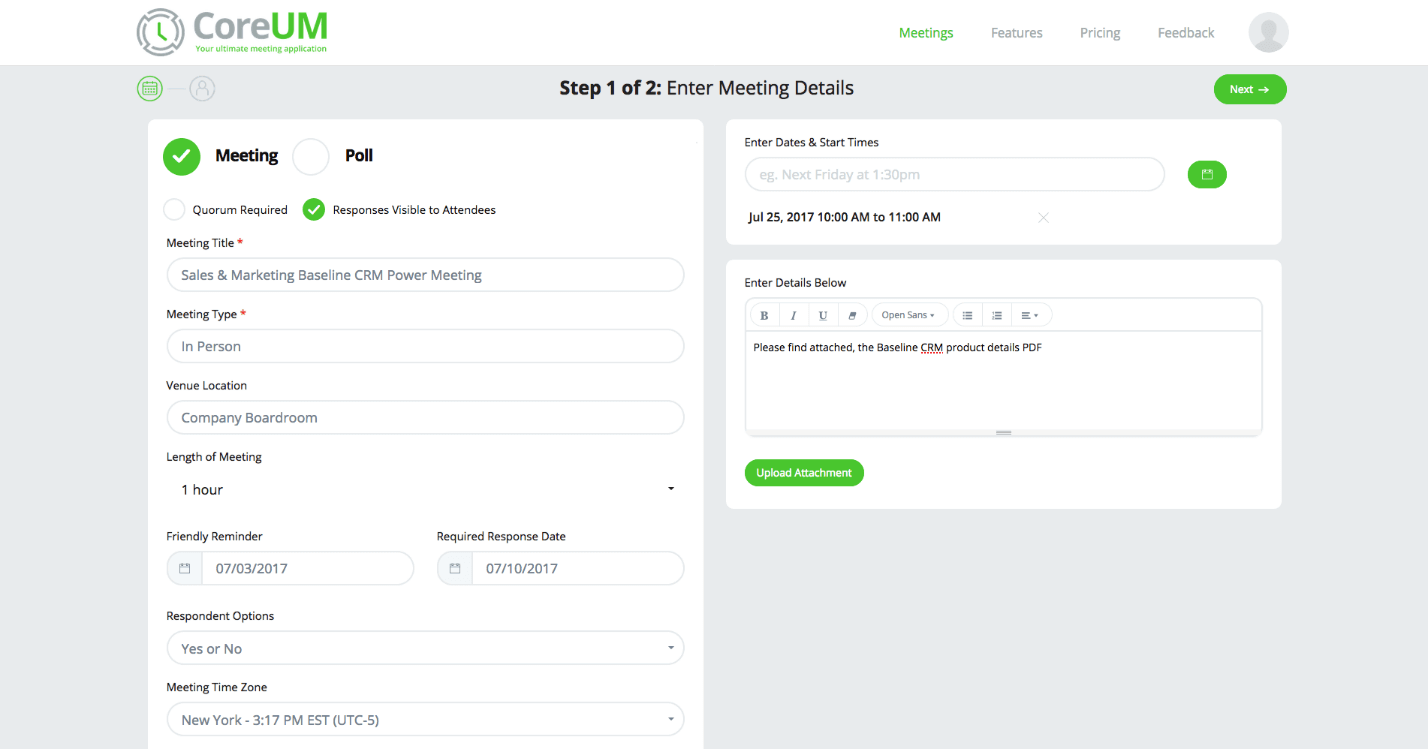 Connect with CoreSolutions Software:
CoreSolutions.ca
CoreUM.ca
Facebook
LinkedIn
Twitter (@CoreSolution)
About CoreSolutions Software:
Based in London, Ontario, Canada, CoreSolutions Software Inc. has over 25 years of experience as a leading software and custom database development company. Organizations rely on CoreSolutions Software to provide world-class software solutions, as well as breathtaking web and mobile applications tailored to their unique needs. CoreSolutions Software also offers "out-of-the-box" solutions, like the Auditor for iOS audit/checklist tool and the Baseline CRM customer relationship management system that comes furnished with all the essential features that a small to medium size business requires, with the ability to add custom modules and features as deemed fitting. Further to its custom solutions and "out-of-the-box" products, CoreSolutions Software facilitates a series of FileMaker training courses that are available both online and in classroom format.
###
For more information on CoreSolutions Software's CoreUM web application, or if you would like to schedule an interview, please contact:
Kyle Mayer, Marketing Manager
Phone: 800-650-8882
Email: This email address is being protected from spambots. You need JavaScript enabled to view it.