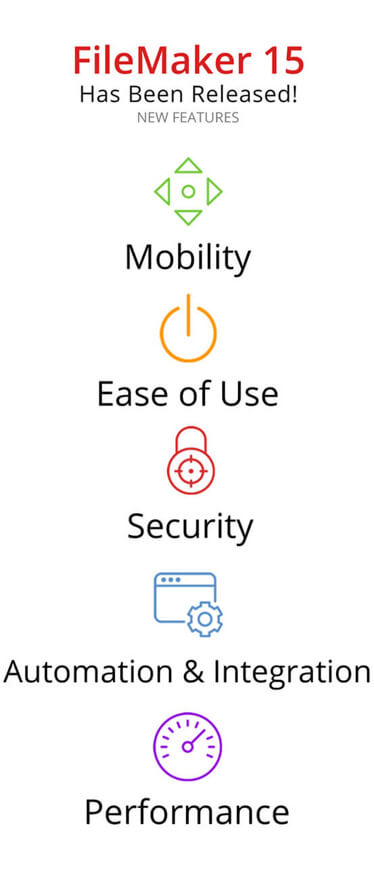 As you may have heard, FileMaker 15 has been released. I wanted to help you understand exactly what this release could mean for you, if you should upgrade, and let you know the exciting new features included in the release.
What FileMaker 15 Means For You
Last year with the release of FileMaker 14, FileMaker committed to a more iterative product release process. This means that they are going to be releasing newer versions of FileMaker Pro on a shorter more consistent basis.
Anyone with an active FileMaker maintenance contract will receive an email to download the FileMaker Pro 15 maintenance release.
Why You Should Care about FileMaker 15
Enhanced Mobility – if you are looking at expanding the mobility of your workforce, FileMaker 15 has new features to help you move and share data on different mobile platforms.
3D Touch - Directly launch recent files and access the Launch Center on 3D Touch-enabled devices.
Touch ID Support - Securely access your custom apps by unlocking them with a touch of your finger.
App Extensions - Content Customization and Cloud-Based Sharing.
iBeacon - Get location-based data from your custom app.
WebDirect mobile phone support - The responsive user interface in FileMaker WebDirect optimizes buttons, fonts, and menus for a streamlined experience on your phone.
Ease of Use – FileMaker is renowned for ease of use. The release of FileMaker Pro 15 continues to build upon that reputation. There is a new updated user interface, web-based help, new starter solutions, and new developer tools for those users who like to build and support their own solutions.
Increased Security and Performance – FileMaker Server provides even more new features which will enhance the overall user experience.
Concealed Edit Box - Hide sensitive information you don't want displayed on your screen.
Proactive Security Warnings - Within the FileMaker Platform, warning notifications appear when connecting to a host or website that has an invalid security certificate.
More SSL Certificate types Supported - FileMaker Server now supports intermediate, Subject Alternative Name (SAN), and wildcard certificates.
SSL certificate enhancements - FileMaker Server now supports SSL certificates from More Popular Vendors.
Top Call Statistics Logging - Quickly diagnose any slowdowns within the FileMaker Platform. FileMaker Server shows the top 25 calls from connected clients that are taking the longest time to process. Identify which clients are affected and the duration of the call.
Portal in Line Progress Bar - Filtering and sorting data now takes place separately from other operations so you can continue to use your app while these processes are running. The progress bar lets you know when the task is complete.
Along with these exciting new features, FileMaker is rolling out a new program that will make it easier for users to use FileMaker on multiple devices. FileMaker is launching "FileMaker Licensing for Teams" (FLT); the new licensing program will give users access to FileMaker through their desktop, mobile device and the web, with just one license. The FLT would not replace the existing VLA and AVLA licenses, but rather would enhance FileMaker's license offering. More Info on the FLT.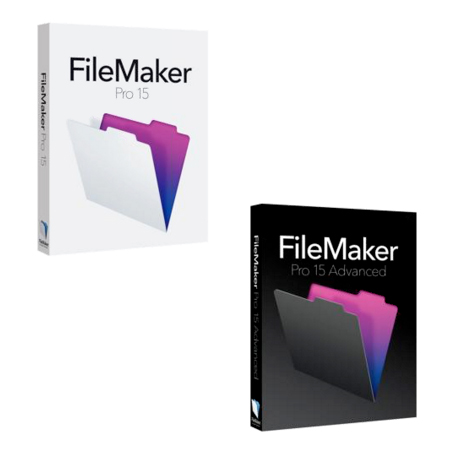 Why You Should Upgrade to FileMaker 15
If you are not on an active maintenance contract or not sure if you should upgrade, rest assured that we can make the process easy. As with all software, there are a lot of benefits to being on the most current version including support and the enhanced functionality. For that reason, we recommend that everyone upgrade to FileMaker 15 as soon as they are able.
If you have not received your maintenance release by May 17th 2016, feel free to reach out to us and we will help make contact with the right person at FileMaker.
Also, if you have a Maintenance contract with FileMaker, be sure to add This email address is being protected from spambots. You need JavaScript enabled to view it. as an accepted email address, so any important emails do not get sent to your spam folder.
These are exciting times for FileMaker. If you have any questions or would like to chat about the new features/programs, please reach out or leave a comment below and we'll be sure to get back to you with the information you need.
If you enjoy our FileMaker blogs, be sure to subscribe to our Core FileMaker Newsletter!
Have a great day,
Kris Hayward