Here at CoreSolutions, this month is our Core Integrations month. We have sent out great resources for our readers including Advantages of Integrating Your Mobile Workforce and Fully Integrated Software: What it means to Your Organization. The industry has changed dramatically during the past decade and we created this infographic to show some of the most surprising and important stats about software integrations, how they have changed, and where the market is going This infographic showcases some cloud integration trends, the revenue growth that APIs cause and what businesses are planning to do about this rapidly increasing integration industry.
Statistics were pulled from Duane Tharp's New Survey Data on Enterprise Cloud Computing, Mark Greene's Addressing the API Consumption Side: 5 Predictions for 2016 & Beyond, Clutch's 2016 Enterprise Cloud Computing Survey, McKinsey & Company's Ready For APIs? Three Steps to Unlock the Data Economy's Most Promising Channel and Accenture's Technology Vision 2015.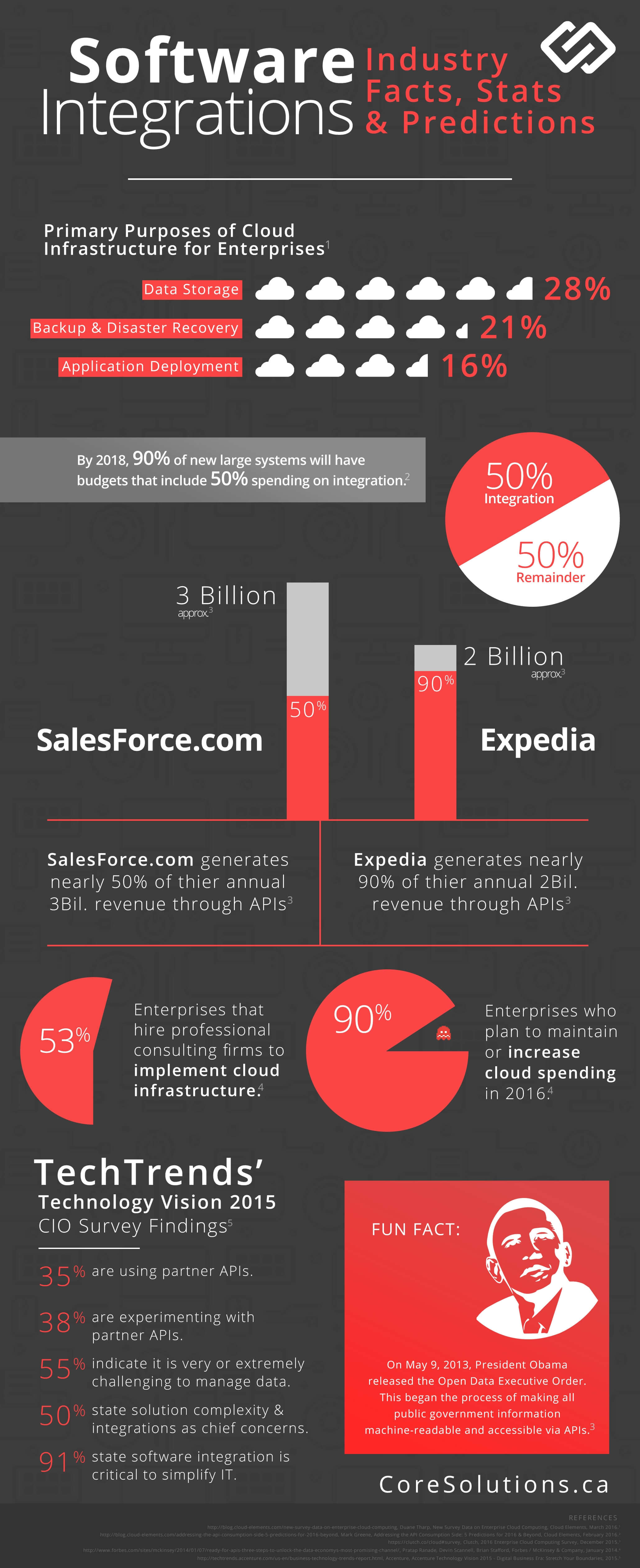 As you have noticed in the past few years, cloud integration has gained momentum and is used to at least some extent in almost every business. Whether you upload documents to OneDrive, receive emails on your cellphone or host a cloud database for your important data, you are utilizing the cloud. More than that, you are utilizing the streamlined bonuses of software integration. These are exciting times – data is becoming more accessible and efficient and businesses are truly reaping the benefits. If you have any stories about your personal integration success story, be sure to post it in the comments below. If you are feeling like there is more you or your business should be doing to get in on this integration industry boom, be sure to Reach Out to CoreSolutions and one of our experts will be sure to help you out.
If you enjoy our Web Blogs, be sure to subscribe to our Core Web Newsletter!
And as always, Thanks for Reading!
Steve Malott